Interim Financial Report
30 June 2016
Revenues are in line with forecasts and margins are better than expected. Orders have reached a book-to-bill ratio that is greater than 1.0. The pipeline is particularly good and the backlog has reached record levels for the group, more than €31 billion for construction.

Pietro Salini
Group Chief Executive
Salini Impregilo

€ 6,8
blnNew Orders*
*at July 2016

€ 2,7
blnRevenues

€ 836
mlnNet Debt

€ 252,8
mlnEBITDA

€ 129,3
mlnEBIT

In order to present the Group's performance for the period consistently with the corresponding period of the previous year, the consolidated income statement for the six months ended June 30, 2015 has been restated combining it with Lane Group's consolidated income statement for the same period. This is because the figures presented in the Interim financial report for the statement of financial position at December 31, 2015 and the income statement for the first six months of 2015 do not include Lane Group, they are not fully comparable.
Moreover, for management purposes, the adjusted figures are presented for both six-month periods "adjusting" the IFRS accounting data prepared for consolidation purposes to reflect on a proportional basis the financial results of the joint ventures non controlled by Lane Group. The data represented as such show the business performance managed by Lane directly and through its non-controlling interest in the joint ventures. Finally, Lane Group's figures at June 30, 2015 are taken from its consolidated financial statements drawn up under US GAAP.
Performance by geographic area
New orders
Order backlog
Order backlog evolution (bn €)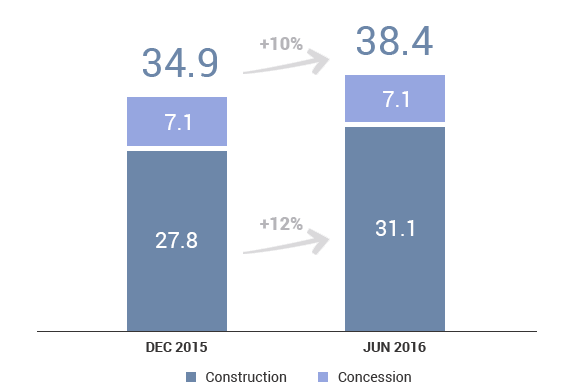 Order backlog at June 30, 2016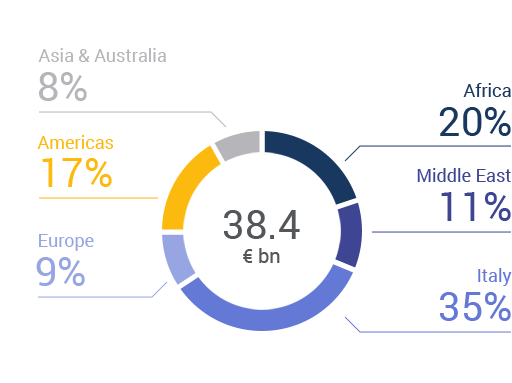 24/06
Unsecured bond offer
Salini Impregilo successfully placed with institutional investors an unsecured bond offer for a total nominal amount of €428.3 million with a fixed-interest rate coupon of 3.75%. The bonds are listed on the Irish Stock Exchange.
22/06
Short list for a new project - Australia
Salini Impregilo is on the short list to design-and-build a new project worth for a €3.6 billion (5.5 billion in Australian dollars) in Melbourne, Australia.
17/06
Urban residences - Kuwait
Creation of a 12,000-hectare urban residential development 40 km northwest of Kuwait City as part of the South Al Mutlaa Housing Project for $955 million.
24/05
Hydroelectric dam - Ethiopia
Salini Impregilo signs a €2.5 billion contract to build a 2.200 MW hydroelectric dam in Koysha, Ethiopia.
23/05
2016-2019 Business Plan
Salini Impregilo presents to the international financial community its 2016-2019 Business Plan focused on cash generation.
Salini Impregilo Group wins three lots of roadwork in Florianopolis, Brazil, for €75.8 million.
18/05
Water treatment plant - Turkey
Salini Impregilo's Fisia Italimpianti unit wins a €83.9 million contract to modernise and expand a water treatment plant in Atakoy, Turkey.
28/04
Forrestfield-Airport Link - Australia
Salini Impregilo Group signs a €791.7 million contract (1.176 billion in Australian dollars) to design, build and maintain the Forrestfield-Airport Link in Perth, Australia.
03/03
Purple Line light transit system
Selection of the Purple Line Transit Partners consortium with Lane Construction Corporation as a member to design and build the Purple Line light transit system in Maryland for $2 billion.
25/02
Resignation of Laura Cioli
Laura Cioli resigns as independent member of the Board of Directors for professional reasons.
20/01
S7 Expressway - Slovakia
Winning of a €117 million contract to build a section of the S7 Expressway south of Krakow near the border with Slovakia.
15/01
Divest Todini Costruzioni Generali S.p.A. to Prima System Kz Ltd
Signing of the contract to divest Todini Costruzioni Generali S.p.A. to Prima System Kz Ltd for €50 million.
04/01
Acquisition of Lane Construction Corporation
The completion of the acquisition of Lane Construction Corporation.