The combination of industrial expertise of Salini and Impregilo, as a result of the strategic cooperation agreement signed by the two groups in September 2012, has allowed the commercial activities to achieve extremely important results in 2013.
The consolidated portfolio of work in hands totalled about €28.8 billion, including the backlog of Todini (amounting to €0.8 billion) and consisted of €22 billion from the construction sector, while the concessions and plants business contributed €6.5 billion and €0.3 billion respectively.
The new acquisitions amounting to €8.6 billion were mainly the result of the construction business, which contributed approximately €5.7 billion, i.e., 66.5% of the total, while the remaining 33.5% was generated almost entirely by the concessions sector and specifically by the management contract for the hospital in the Turkish city of Gaziantep.
Noteworthy is the performance in the "Railway works" and "Road works" sectors, which account for 32.6% and 30.1% of the new projects in the construction sector respectively.
With regard to the "core" activities, 31% of the construction backlog referred to domestic projects (€6.8 billion), and the remaining 72% to foreign projects, of which Africa accounts for 45% (€6.8 billion), Asia and the Middle East 17% (€2.6 billion), the Americas 21% (€3.2 billion), Europe 15% (€2.3 billion), and Oceania 2% (€0.2 billion).
The construction sector is important not only for its impact on the overall portfolio of work in hand, equivalent to 68%, but above all as an indicator of the commercial penetration potential of the Group, which in 2013 was able to improve the value of its backlog by 10%, up from €19.9 billion (pro forma figure including the 2012 portfolio of Impregilo) at year-end 2012 to the current €22 billion.
The railway works (€ 5,676 million) and hydraulic works (€ 5,518 million) segments represented the core business of the Group with 25.8% and 25.1% of the construction portfolio respectively. Nonetheless, road works and high-speed railway projects also played a substantial role with €3,821 million and €3,617 million each, representing 17.4% and 16.4% of total works in hand respectively.
Construction portfolio of work in hand by geographical area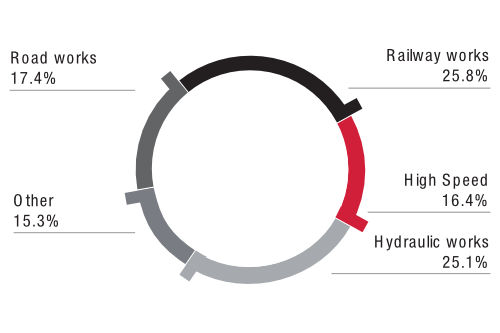 Construction portfolio of work in hand by business sector